We lost Jean on 4th March 2021. She had been in a nursing home since a brain hemorrhage 2 years ago and sadly passed away.
If you have any photos or comments to contribute to her memorial page please send them and they can be included.

Jean will be greatly missed by everyone who knew her.

---
Copyright Ripley Green Garters 2016
Perth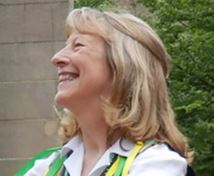 Garters thoughts on Jean

I always thought she was such a lovely lady
Gerald Atkinson

I remember her lovely little flick of the hankie in Chevin and the so ladylike clash in another dance I can't remember the name of. She was so elegant and friendly and made me so welcome when I joined Garters, as did you all. When we dance the Train dance someone has to "be Jean" because she was always opposite me with a smile of encouragement.
I can't believe she's never going to dance with us again.
Janice Walker

I think we all realised a long time ago that the lovely, friendly, elegant Jean we all knew would never return.
Janice's description of Jean and her dance style made me smile and remember how she used to be.
She never seemed to be cross or in a bad mood and I'm sure that dancing with Garters was very important to her.
Her death will be such a sad loss to Alan and all of her friends and family.
Maxine Warburton

I remember chatting with her about the stuff she got up to in the sixties, she had been one adventurous woman. I remember her 70th too, and could not believe she was 70 as she acted much, much younger, and Alans dancing cake - right colours, wrong dancing. She took it all in her stride and always saw the funny side.
Chelle Byrne

Will think of her graceful dancing moves for happy thoughts.
Lynn Bateman Xx

Jean was such a lovely person, although I didn't know her for long she was one of the ones who tried to speak to me from the first time I came back to join you all.
She will be truly missing. A relief for her not to be in pain any more.
Cath Smith

I barely knew Jean as she became ill soon after I joined, but she made a profound impression on me because she seemed so gentle and sweet. Her illness has been so sad and cruel. My thoughts are with you because you have lost a great team member and friend.
Karen Hale

She was a smashing lady, calm and serene, taking everything in her stride and putting up with me prodding her on! We WILL miss her and, as Janice said, we HAVE missed her these past 2 years. Love to Alan and her family and friends.
Pam Roddis

Jean was a lovely lady who always looked immaculate - no hair out of place. She always seemed so serene and moved delicately. I will think of her sitting on a cloud smiling and surveying us all going about our business.
Ronda Sims

Jean was very special. I danced opposite her in a few dances my first year, and she gave me so much confidence by quietly reminding me which way to go and always smiling no matter what happened. She teased me out of my nerves several times, and reminded me through her own gentleness how important it was just to enjoy what I was doing. I only wish I had known her better.
Donna Boothman

Now is the time to remember the delightful lady who was Jean. Always thoughtful and kind to everyone around her.
Judy Buckley